A comprehensive review for DJD UK Global Music by artist product and content reviewer John Koudela III (USA) This review is based on 2 Products 6 tracks and 2 artworks. Published April 28th, 2019.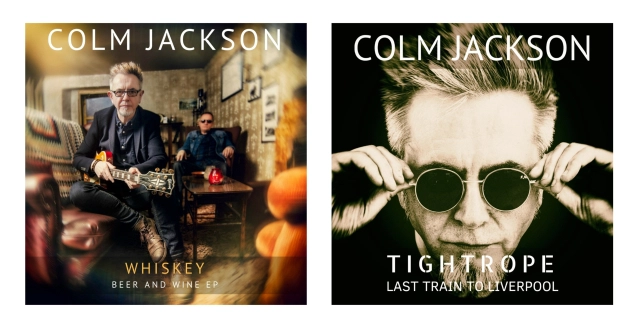 ---
Part 1. Whiskey Beer and Wine. EP
1. Alright, Alright, Alright
Nothing beats a confident woman you're in a relationship with who "fears no evil", drives a "blood red Camaro" like it's part of her, who leaves you with an image of herself: "always on my mind" as she drives off. She's the kind of woman who treats you so fine that "she took the devil out of me" and loves you deeply enough so you feel "she's my love to the highest apogee"! Her fondness for you gives you hope "that she'll set me free". And you unselfishly conclude "it feels alright". The verses speak glee of the heart from a decisive realisation of her grip of you out of her magnetic attraction to you! What joy!!
The song starts with hard down strumming electric lead guitar with a bit of distortion, hard overdrive, a sense of funk, phase and fuzz and whole lotta of body in every ac-tone of each string vibration. It quickly comes to mind 'I'm gonna tell you about someone I loved and why, I'm gonna get serious, I'm gonna take the time this time'. Hard taps and drum kicks drop in to support the forthrightness of this wonderful story. Call it a ballad with a country-like feel, wanging guitar with hard stick struck drumming with a soloist who sings with long, raspy 'drawn out of the soul' words from a heart complete. And just before the end there's this awesome blues guitar solo just saying how fine this woman is to have in your life. It speaks but one word: "alright"!! You hear it speaking it over and over and never grow tired of it!
2. He Could Love
There is nothing harder in this world than the slow burn on the edge of one's heart pained by the unresolved need for their father's love. In all he could do: "the talk", "the dance", to laugh and to cry, to "push all your buttons" and faith through all he could do expressed through the "angel with his crazy concubine". No matter what nakedness there was in his lair, he just couldn't give his love. How saddened the damage to his son's heart to never know, nor hear, nor see it.
This unrelenting agonising piece begins with a slow and drooled out down strum of low notes from an electric guitar, a weathered and beaten voice , the slow plucking, plunging, tapped periods… again… percussive reminders of a long list of hopes and wishes of "And all I ever wanted was to know he could love". The depth all the way to the end of his father's life with still no answer. I almost cried listening. I felt the empty space inside me.

3. Suzi Blue
More often, with friends about, one pulls out an acoustic guitar and starts playing a memory – a past loved one, a person they knew, a good friend or someone they dated wondering what has happened to them, where they are now and what have they become. This piece is Colm Jackson's turn to tell us about a past person whom he knew: "Whatcha' you doing today", "It's been a mighty long time", "since you took my breath away". Our own memory throws out a spark of a once-upon-a-time person we knew, a person important to us, the need to know where they are now.
Colm's weathered and wiry voice with a need to know grips the listener to 'hear' the story, to remember the hardships in relationships in their own past. To have to see later the hard habits not yet broken "Is that a needle in your pocket", to have caught a glimpse of her running with the wrong crowd… all the while remaining "hypnotized" by her.
I don't think any of us ever tire of hearing a song like this from any of our friends because their story is like one of ours. I enjoyed this work! Thank you Colm for bringing up my own memories. May she always be in yours.

4. Whiskey, Beer and Wine
Trapped in the basement with the ravages of what you did every morning "Drink whiskey, beer and wine all the time" knowing, 'dammit', "I can't stand you're leaving me". But you know the time has come, your drinking became too much no matter your apologies "Oh I know that I've been trouble these past seven years or more". The emotions come back all too real, the loss of her by your side all too frightening to face again, the way out too simple to do alone… because in your cries you still believe there's a chance she will come back "won't you come on home to me" you'll try to cry out again and again. The electric lead guitar playing is powerful and well recorded and mastered, upbeat but not overbearing over the vocals.
The string play is creamy, intense, gritty, throaty like the voice, with the occasional guitar slides pushed along the way. The supportive background drumming is well matched, to the lead guitar play. 'Oh yeah fast strums' lead you through the verses with final statements felt from long string vibrations suggestive of hope. And distinct tones bring out the lyrics. It's clear life is still on that long road of potholes filled with the trials and repeated attempts of remorse "Won't you come and say hey baby, I would right out all my mistakes, Oh my mistakes now". But the need to more whiskey proves too much "ah baby give me whiskey" and the song ends quickly. I like this song a lot. The alienation and total helplessness is felt throughout. It's an experience many will remember and a discomfort, but no longer a lonely one to suffer, to those living it wanting someone to hold them.
---
Whiskey Beer and Wine EP – Artwork
In the comfort of your tell-all room in your own home with its old wallpaper, durable furniture, pictures on the wall of friends and family, your best friend there behind you illustrative that he has your back whenever you need him… This is the best place to finally get serious: 'I'm gonna tell you about someone I loved and why. I'm gonna get serious. I'm gonna take the time this time! Oh yes I am… of this woman who set me free, my hurt because my father couldn't show me his love, how I wondered of what happened to a girl I once knew and the bad times when alcohol got the best of me. I'm gonna play my heart out and sing to you these times in my life.' It is an album of storytelling country rock filled with wonder, cries and being a survivor. Colm Jackson's voice and guitar playing is clear, honest and upfront about his experiences. And he is backed up by the support of Darragh O'Neill on drums like a best man.
---
Part 2. Tightrope / Last Train to Liverpool. Single
1. Tightrope
Whether you are on the "razor's edge", "hanging off a ledge", "wishing for high hope" in whatever it is you do, want, or need you're "walking the tightrope" trying to figure it out along the way and thinking "I don't know how to make it", "I don't know how to break it". You trip down a path, you've switched from one tightrope to another, but it feels like it's only you "tripping on my jump rope" that you think you've got under your control. This is how it feels to move away from "this global disease" whether it be illegal drugs, pain killers, or alcohol to better health. You're crawling out from under realizing you are still living "under a microscope".
Heard way out in the background are organ-like pedal sounds of a barely felt dream. Hi-hat slams and claps, a snare strike now and then, a few toms hit in sequence, the light drum kicks against your ass, like an encouragement, to move you forward over and over again because you can't quite do it yourself without help… not yet. Hearing Darragh O'Neill's drumming sequenced to Colm Jackson's electric guitar strumming is like listening to two musicians who have become one – love this! The vocals are out front at the edge of the stage as if to sing directly to members of the audience who connect to the story… 'yeah brother, that me' and 'yeah brother, I was there once'! Tho underneath the verses the artist is reminded of the good guy on his shoulder telling him to sing "But I'm surviving, feel like I'm smiling". Like that… a lot! Gives hope to those trying to make it out.

2. Last Train to Liverpool
Breakups are never easy, never really understood and harder still if it's your partner who leaves you the last time for good just when you thought the relationship was getting closer to wonderful. It's not just the "last train to Liverpool" it's the last time that trip will be taken. But on that day, at that time, no matter the reasons is when the memories of being with your partner kick in hard. Their smells fill your nose and your mind, the erotic images of your intimate times together are in vivid high resolution wherever you look: "the smell of her perfume", "the love that filled this empty room", "hear her breathing deeply in my arms", and "filled with memories of all her swollen charm". And you think if only your partner "realized my love was sure and true" would it had continued on.
The piece starts with strumming solo an acoustic guitar with country styled 'loss by girl' chords, up and down, and up and down again so every string is like every remembered moment felt. The vocals start singing the story, the familiar emotions start up, the cries underneath are heard alongside the organ pedalling sounds of early '60's church blues with recoils like a glissando flown whip. Darragh O'neill drums in quiet with light cymbal taps, kick drumming a lost pulse missed, a bit of snare, a few toms played, the hi-hat softly slapping. There are electric lead guitar loops to create a choir sound on the chorus verses. And yet it doesn't seem to help "no one told me baby that I could be so misunderstood". It still hurts.

Loved this song!!
---
Tightrope / Last Train to Liverpool. Single Artwork
Life is often lived through tinted glasses that we craft inadvertently to protect us from others learning who we are and what we are feeling inside ourselves. We are our own microscope, our own misunderstanding not to be filtered by others, and create our own suffering by not openly telling others how to see us. We create our own tears. The "tightrope" we walk on is broken in so many places that we don't see how different an unbroken one is up ahead. We attempt to adjust our view and end up folding our hands as if around binoculars for yet another try to see through a distorted perspective – one we created that another saw through by chance. Life is blacker.
The white light we want moves away from our grasp just like the one we wanted did on her "Last Train to Liverpool". Colm Jackson tells us in two stories how life doesn't seem to get better whether it's about crawling out of drug addiction or into bed layered with images of memories while crying over a lost relationship. His wiry vocals and guitar play matched with the support of Darragh O'Neill's drumming are more like emotional instruments connected directly to the stories as if designed to pull out similar memories of such times from listeners. These songs grew on me a bit and in a better understanding of these struggles the more, I listened to them.
---
(c) 2019 John Koudela III for DJD UK Global Music.